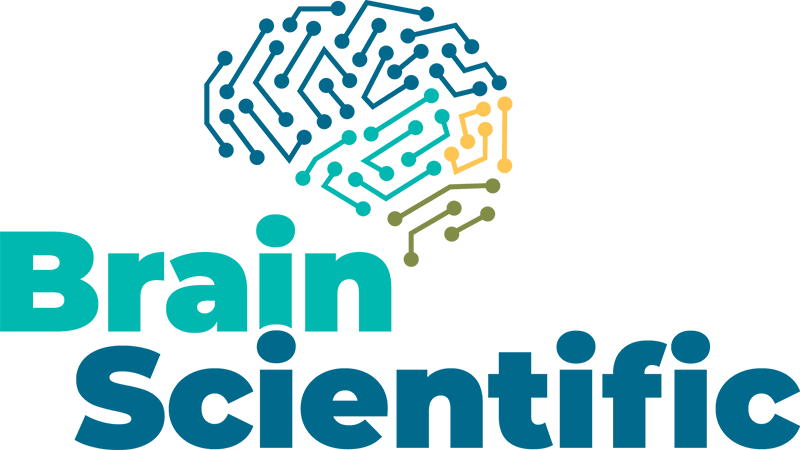 Brain Scientific Inc. (OTCQB: BRSF)
Investment Considerations
Brain Scientific is a commercial-stage health care company aiming to modernize the brain diagnostics market by employing cutting edge technologies to bridge the widening gap in access to neurological care.
The company's current offerings are the NeuroCap(TM) and NeuroEEG(TM) – two FDA-cleared devices delivered by wholly owned subsidiary MemoryMD Inc.
The company's intellectual property portfolio includes three patents in the U.S., China and Europe.
Brain Scientific is developing new products, including disposable EEG headsets for pediatric patients, long-term monitoring solutions and artificial intelligence options for monitoring and recording brain activity.
The company was selected as a finalist at the 2020 Epilepsy Foundation Shark Tank Competition.
The EEG device market is currently estimated at $956.1 million and is expected to grow to $1.6 billion by 2026, achieving a CAGR of 8.7%.
In the future, Brain Scientific intends to leverage AI and machine learning to map brain activities and providing data about different neurological conditions such as dementia, pre-Alzheimer's and epilepsy.
Brain Scientific Inc. (OTCQB: BRSF) is a commercial-stage health care company focused on developing innovative and proprietary medical devices and software. With a mission of modernizing brain diagnostics by employing cutting edge technologies to bridge the widening gap in access to quality care, the company offers two FDA-cleared products that provide next-generation solutions to the neurology market.
The company's proprietary, clinical-grade neurological devices are supported by its intellectual property portfolio featuring patents in the United States, China and Europe.
Brain Scientific's first commercialized devices, NeuroCap(TM) and NeuroEEG(TM), are designed to disrupt the current electroencephalogram (EEG) market by offering cost-effective and disposable substitutes to existing solutions, allowing medical professionals to collect diagnostic information quickly.
The company's goal is to improve diagnostics by leveraging artificial intelligence and machine learning processes to analyze a database of brain readings as a method of detecting seizures and dementia. The company is also working to improve patients' access to neurological care.
Headquartered in New York, Brain Scientific and its predecessor (and now wholly owned subsidiary, MemoryMD Inc.) was founded in 2015 and went public in 2018.
Brain Scientific's first phase of development, from 2018 to 2019, saw the inception of portable, clinical-grade, easy-to-use neurological devices. The second phase, currently ongoing, aims to create cloud-based, secure infrastructure to transmit patient data between patients and their neurologists. The company's third phase of development is scheduled for 2021-2022 and is expected to focus on the use of AI-assisted diagnostic analysis to increase the efficiency, consistency and accuracy of neurology specialists.
NeuroCap(TM) – Disposable EEG Headset
The NeuroCap is a disposable pre-gelled EEG headset featuring 22 electrodes and 19 active EEG channels, all adhering to the international 10-20 system. The NeuroCap was FDA-cleared in 2018. The headset can be used for recording EEGs in virtually any setting, including urban and rural emergency departments, neurology clinics, urgent care clinics, ICUs, nursing homes, assisted living facilities and remote clinical research labs.
Through a universal cable adapter, the NeuroCap is compatible with other EEG amplifiers. The cap also works in parallel with Brain Scientific's NeuroEEG amplifier, initiating EEG studies in less than five minutes.
The company is currently seeking FDA approval for additional features for the NeuroCap, as the device has the potential to fill a gap in EEG testing availabilities during the current coronavirus pandemic: in October 2020, Brain Scientific filed an Emergency Use Authorization (EUA) application. The EUA is required for the rapid distribution of the NeuroCap device to emergency departments, intensive care units and other treatment centers to administer prescriptive EEGs safely on critically ill patients or those suspected of being diagnosed with COVID-19.
With more than 80 percent of hospitalized patients infected with COVID-19 displaying neurological symptoms, the NeuroCap could prove to be a valuable device by offering fast testing with limited contact between technicians and patients.
NeuroEEG(TM) – Miniature and Portable Wireless EEG Amplifier
The NeuroEEG is a compact, portable and affordable wireless EEG amplifier intended for prescription use. The 16-channel, FDA-cleared, clinical-grade device acquires, records, transmits and displays electrical brain activity for patients of all ages.
Both the NeuroCap and NeuroEEG are delivered by MemoryMD Inc., a wholly owned subsidiary of Brain Scientific.
Products in Active Development
Currently, Brain Scientific and MemoryMD are working on leveraging their existing products and drawing from ongoing research to develop and commercialize the next generation of solutions for the brain diagnostics market. The devices under development are being designed to address the following issues:
Routine EEG
NeuroCap-8 is an 8-channel EEG cap. The reduced number of electrodes is vital in emergency room situations, where the time it takes to set up the EEG is critical.
Pediatric EEG
NeuroCap Pediatric is positioned to become the first disposable and pre-gelled headset available for the pediatric market.
Long-Term Monitoring
NeuroCap LTM for adult and pediatric patients is a disposable cap designed to monitor rhythmic and periodic patterns for up to 72 hours, providing essential diagnostic capabilities.
NeuroEEG 24 Channel Amplifier is a portable and wireless amplifier with over 24 hours of battery life.
Artificial Intelligence
Brain E-Tattoo is a minimally invasive four-channel EEG electrode designed for long-term monitoring.
An AI database of brain biomarkers collects data on both normal and abnormal brain data to detect neurological diseases. The goal is for machine learning algorithms to enhance understanding of brain-behavior related to epilepsy, memory dementia and pre-Alzheimer's diagnostics.
Telemedicine
Brain Scientific is expanding the vision for telemedicine in neurology. The company aims to address the current acute neurologist shortfall (20 states have less than 10 neurologists per 10,000 patients) through the use of teleneurology.
Partnership with Marketing Brainology
Brain Scientific has a longstanding partnership with Marketing Brainology, a neuromarketing firm using neuroscience approaches to understand consumer behavior. In 2019, Marketing Brainology conducted a study using NeuroCap and NeuroEEG to determine the most effective Super Bowl commercials.
"Thanks to Brain Scientific's NeuroCap and NeuroEEG, we are able to better understand the art and science of the human decision-making process," Michelle Adams, Ph.D, Founder of Marketing Brainology, stated in a news release.
In April 2020, Marketing Brainology again conducted a study leveraging Brain Scientific's disposable EEG cap to determine how brains were reacting to COVID-19 messaging. Subjects were presented with multiple media impressions, and Marketing Brainology analyzed their responsive biomarkers. The results identified the most effective messaging for engaging with an audience during a crisis.
Market Outlook
The current global market for EEG devices is estimated at $956.1 million. It is expected to rise with a CAGR of 8.7% from 2019 to 2026, reaching $1.6 billion in value by 2026, according to Grandview Research.
In total, there are approximately 6,150 hospitals in the U.S., according to the American Hospital Association. Critically, though, just 254 of those hospitals are certified Level 4 Epilepsy centers with 24/7 EEG coverage. Since very few non-Level 4 centers have extensive EEG tech coverage, this creates a significant opportunity for Brain Scientific to bridge the gap by providing over 5,900 hospitals with lower cost amplifiers and disposable EEG caps.
The company also see opportunities to work with other businesses, such as EEG manufacturers hoping to package Brain Scientific's solutions with their products, which could greatly expand Brain Scientific's addressable target market.
Management Team
Dr. Baruch "Boris" Goldstein, Ph.D., is co-founder and Chairman of Brain Scientific. He is a seasoned executive with a proven talent for aligning global business strategies with established and emerging management teams. Goldstein's growth-focused leadership style has helped him raise over $750 million in venture capital for the development of innovative companies and startups in diverse industries, including financial services, biomedicine, alternate energy and new materials, as well as groundbreaking work in artificial intelligence. His recent achievements include important advancements in neurology and unlocking the potential of AI correlations and machine learning applied to life sciences and medical research. He built a suite of first-to-market companies as a technology-oriented leader, including Ryah Medtech, Brain Scientific, GrapheneCA, E-Forex and Intelligent Video Systems. He also co-founded BrainRX, a company specializing in pre-Alzheimer's diagnostics.
Dr. Nikolay Kukekov, Ph.D., is a Director of Brain Scientific and a partner at HRA Capital. Before joining HRA Capital, Kukekov was Managing Director of Healthcare Investment Banking at Summer Street Research. His scientific background includes a bachelor's degree in Molecular, Cellular and Developmental Biology from the University of Colorado at Boulder. He earned his Ph.D. in neuroscience from Columbia University – College of Physicians and Surgeons in New York.
Stuart Bernstein is the company's Vice President of Marketing. He was recently named to the role after spending the first part of his professional career in senior technical management roles with Fortune 500 companies such as NCR (NYSE: NCR), IBM (NYSE: IBM) and Control Data Corp. He was the CEO of BioSignal, an EEG medical device company. He is also a co-founder of several software engineering and telemedicine firms. One of them, Brain Saving Technology, is now Specialist on Call (SOC Telemed) – a leading telemedicine company that powers over 850 facilities for teleneurology, telepsychiatry and critical care telemedicine with over 200 physicians.
Additional Resources