SuperCom has introduced the all-in-one PureOne monitoring device with three unique tech modules, offering advanced technology for the cost-effective electronic home and civil monitoring of offenders
The electronic offender monitoring market in Europe and the Americas is expected to reach $2.1 billion in 2026 and is seeking new technologies to meet a rapidly growing demand
SuperCom's innovative solutions promise a critical technological and social impact – improving public safety worldwide and reducing governmental costs in the process
The company's growth strategy includes potential acquisitions and expansion into new regions with limited electronic monitoring capabilities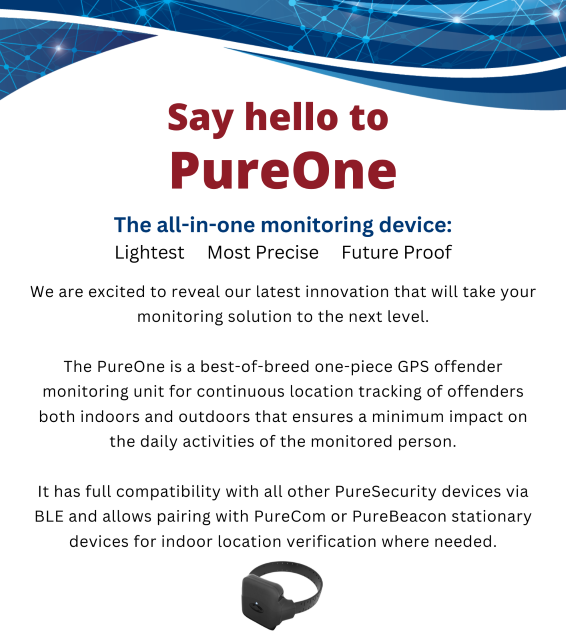 SuperCom (NASDAQ: SPCB), a leading global provider of traditional and digital identity security solutions offering advanced safety, identification, and security products and solutions to governments, introduces its all-in-one PureOne monitoring device. This device features three built-in modules – the BLE module allows the device to communicate with the Pure Beacon (home unit) Bluetooth device, the GNSS module for location positioning, and the LTE cellular module for communication with the company's Pure Monitor. The device has a portable charger, and both components feature an LED interface for easier system navigation.
Since 1988, SuperCom has been a trusted global provider of traditional and digital identity offerings with a mission to revolutionize the public safety sector through proprietary electronic monitoring technology, data intelligence, and complementary services. The company's largest focus is on the electronic monitoring of offenders and domestic violence prevention.
In alignment with its mission, the company offers an all-in-one PureSecurity offender monitoring suite, accompanied by GPS monitoring, home detention, domestic violence prevention, and more. These services are specifically catered to serve each client's needs. The competitive advantages of SuperCom's technology include:
Long Battery Life (No Tag Charging Required)
Ultra Lightweight Form Factor
Next-Gen Location Tech
Protection of Domestic Violence Victims
According to Berg Insight, the global electronic offender monitoring market in Europe and the Americas is expected to reach $2.1 billion in 2026. These electronic monitoring devices aim to increase offender accountability, reduce recidivism rates, and enhance public safety by providing an additional tool over traditional methods of community supervision (https://ibn.fm/DuCI5).
The world's criminal justice systems face challenges that SuperCom can help solve. Countries are seeing high recidivism rates, prison overcrowding, excessive costs, and unsafe communities. SuperCom's solutions help negate these challenges and offer a superior alternative for a growing social problem.
SuperCom's solutions create a positive social impact – improving public safety worldwide. The company's solutions help save lives and eradicate domestic violence, increase overall public safety and well-being, offer meaningful rehabilitation and proper reentry to society, and facilitate reducing incarcerated population sizes and associated governmental expenditures.
The company's solutions are a versatile alternative to traditional methods. It offers capabilities allowing governments to provide a wide array of at-home programs, including house arrest, GPS monitoring, domestic violence support, inmate monitoring, alcohol monitoring, and other rehabilitation services. SuperCom has already won over 50 new multi-year governmental projects since 2018.
SuperCom's growth strategy includes potential acquisitions and expansion into countries and states with limited electronic monitoring. In a press release about the company's project with the government of Finland, SuperCom President and CEO Ordan Trabelsi said there was a growing number of countries opting for advanced electronic monitoring solutions, which highlights the increasing need for exceptional technology in this industry. "We take pride in the fact that our innovative and proven technology is chosen repeatedly, allowing us to continue revolutionizing the electronic monitoring industry as we enter new European countries," Trabelsi added (https://ibn.fm/LSdhh).
SuperCom continues solidifying its position as a leading electronic monitoring market and a trusted partner to governments worldwide – providing innovative and proven technology and services to help governments improve public safety, reduce recidivism, and lower overall costs.
For more information, visit the company's website at www.SuperCom.com.
NOTE TO INVESTORS: The latest news and updates relating to SPCB are available in the company's newsroom at http://ibn.fm/SPCB
About TechMediaWire
TechMediaWire ("TMW") is a specialized communications platform with a focus on pioneering public and private companies driving the future of technology. It is one of 60+ brands within the Dynamic Brand Portfolio @ IBN that delivers: (1) access to a vast network of wire solutions via InvestorWire to efficiently and effectively reach a myriad of target markets, demographics and diverse industries; (2) article and editorial syndication to 5,000+ outlets; (3) enhanced press release enhancement to ensure maximum impact; (4) social media distribution via IBN to millions of social media followers; and (5) a full array of tailored corporate communications solutions. With broad reach and a seasoned team of contributing journalists and writers, TMW is uniquely positioned to best serve private and public companies that want to reach a wide audience of investors, influencers, consumers, journalists, and the general public. By cutting through the overload of information in today's market, TMW brings its clients unparalleled recognition and brand awareness. TMW is where breaking news, insightful content and actionable information converge.
To receive SMS alerts from TechMediaWire, text "TECH" to 888-902-4192 (U.S. Mobile Phones Only)
For more information, please visit https://www.TechMediaWire.com
Please see full terms of use and disclaimers on the TechMediaWire website applicable to all content provided by TMW, wherever published or re-published: https://www.TechMediaWire.com/Disclaimer
TechMediaWire
Los Angeles, CA
www.TechMediaWire.com
310.299.1717 Office
Editor@TechMediaWire.com
TechMediaWire is powered by IBN